WHEN THIS YOU SEE REMEMBER ME!
SONJA BENDER
is a german artist working with several media integrated in music and theatre performances, in multiples, installations, short films and live audio video improvisations.
She lives and works in Germany.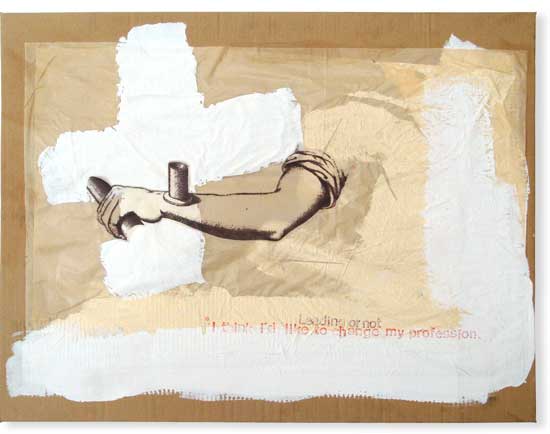 Collage: I think I would like to change my profession / 2005
Wand- und Stempelfarbe, Laserausdruck, Verpackungskarton für Bilderrahmen, Verpackungspapier
I performed and exhibited my work for example at:
Sprungturmfestival, Darmstadt
Konzerthaus Berlin
Deutsche Oper Berlin
Saarländisches Staatstheater, SPARTE 4
Borusan Music House, Istanbul
Kölner Philharmonie
Kunsthalle Wien
Mathildenhöhe Darmstadt
Poesie im Park, Wiesbaden
WRO1 Breslau, International Media Art Biennale
WDR3 - Studio Akustische Kunst
CYNETart/Microscope, Dresden
Garage, Istanbul
Galerija Kapelica, Ljubiljana/Slovenien
ICMC 2000 Berlin, International Computer Music Congress
Instants Chavires, Paris
Z 2000 Akademie der Künste Berlin
LEM, Barcelona
Kryptonale, Berlin
Volksbühne Berlin
Stadttheater Konstanz
Schirnhalle Frankfurt
Relay Festival Berlin
Bahnhof Westend Berlin
Transmediale Berlin
Transmediale Club
Kampnagel Hamburg
Medienforum I+II Berlin
EMAF Osnabrück
20. Dresdner Tage der zeitgenössischen Musik 2006
Mainfranken Theater Würzburg, Foyerstücke
Was hören wir?, Die Musikalisierte Stadt Rochlitz u. Bad Lausick
loop pool ping pong, Raum für Projektion, DVD
...